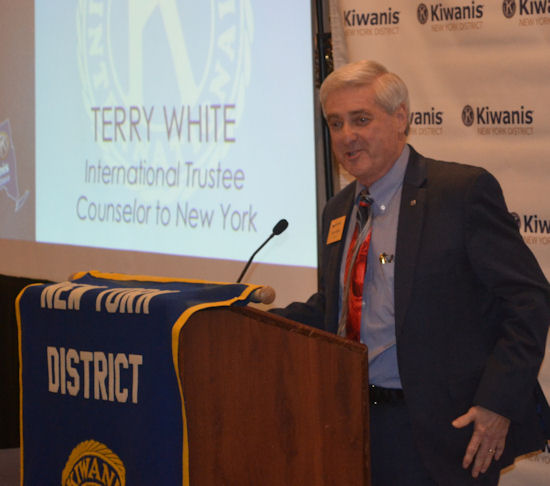 International Trustee Terry White, the counselor to the New York District, addressing the Kiwanians present at the Mid-Year Conference.
Mid-Year Concludes
The 2018 Mid-Year Conference ended on Sunday.
Pictures and other information from the weekend is available.
Circle K Seeking Sponsors
Circle K is seeking sponsors for its annual convention which will take place March 16-18 at the Desmond Hotel in Albany.
A letter from Circle K Administrator explains the conference, which will honor District Key Club Administrator John Goldstein and his wife, Hazel, as well as Greg Faulkner.
Kamp Kiwanis to Celebrate 50th Anniversary
The New York District Kiwanis Foundation and Kamp Kiwanis will be celebrating their 50th Anniversary with a Gala on Sunday, March 4, 2018. The event will recognize the hard work and dedication done by so many to make and keep the Kamp successful.
The celebration will be at the Crest Hollow Country Club in Woodbury.
For more information, see the Kamp web site.


From left, Secretary James Hunter, Treasurer Ray Kenny, Lt. Gov. Tom Cesiro, Board Member Carol Basdeo, President Richard Ramos, Vice President Robert Bara and Immediate Past Gov. Stephen Sirgiovanni.
New Valley Stream Club Opened
The Kiwanis Club of Valley Stream was organized in the Long Island Southwest Division on Jan. 31.
Playing a role in the new club's formation was Long Island Southwest Lt. Gov. Thomas Cesiro, assisted by Charter President Richard Ramos. Kiwanis International President Jim Rochford and his Eye of the Tiger Team helped lay the groundwork for the club last year after the district Mid-Year Conference.
The new club was organized with 31 members.
A previous Valley Stream club was formed in 1943 and had its charter revoked in 2016.

Legal, Tax Issues Addressed

A new page on the web site provides expanded information for clubs that are considering creating a club foundation or have other questions about state and federal filing requirements for Kiwanis clubs.

New Members Being Inducted

So far during the 2017-18 Kiwanis year, 153 new members have been inducted by Kiwanis clubs in the New York District.

You can see who they are and what clubs and divisions they have joined.

Milestone Club Anniversaries This Month

Club
Organization Date
Years
Batavia
February 22, 1923
95
Hamburg
February 6, 1958
60

View Complete List