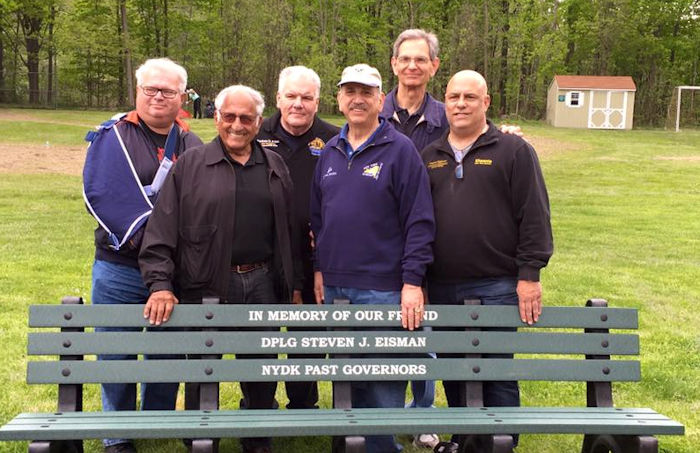 From left, Distinguished Past Gov. David Rothman, Past Gov. Robert Calabrese, Gov. Forbes Irvine, Distinguished Past Gov. Joe Eppolito, Distinguished Past Gov. Peter Mancuso and Gov.-Elect Steve Sirgiovanni. Missing from the picture was Distinguished Past Gov. Joe Aiello, who was at the Kamp but working elsewhere when the picture was taken.
Past Governors Honor Eisman
At the Open House at Kamp Kiwanis on May 14, a bench was dedicated to the memory of our dear friend and great Kiwanian, Distinguished Past Lt. Gov. Steven J. Eisman, who unexpectedly passed away last year. The funds donated to obtain this bench came from our New York District past governors. District Foundation President Sal Anelli, Past Gov. Bob Calabrese and Distinguished Past Gov. Peter Mancuso spoke during the ceremony, recounting Steve's lengthy period of invaluable service to the district and close friendship with many of us.
More pictures from the Open House are available.
Time to Pack for Toronto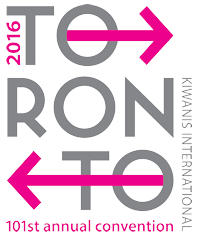 The Kiwanis International Convention in Toronto, June 23-26, is fast approaching. More than 200 delegates and guests from the New York District (the second largest contingent at the event) will be traveling to the convention where delegates will elect candidates and carry on other convention business. Included this year is the candidacy of New York Distinguished Past Gov. Peter Mancuso for a seat on the International Board of Trustees.
It's not too late to make plans to attend the event, as registration will be available on site.
Those who plan on attending the District Reception must purchase tickets in advance; none will be sold at the door.
New York District Information:
For those who are making the trip, International is providing an online tool to plan your schedule, as well as a smart phone app which will provide information on the event as well as updates during the convention. For more information on the event, go to the International Convention page here on the site.
Nurse needed for Kamp Kiwanis Adult Weeks
Kamp Executive Director Rebecca Clemence is seeking help in finding either a volunteer or a paid registered nurse to work at Kamp Kiwanis for the adult weeks, June 25-July 1 and/or July 2-8.
For further information, see a notice from the kamp.

Formula Team Offers New Incentives

The Formula Team is offering new incentives for Kiwanians who sponsor new members or new club openings between now and the end of the Administrative Year, Sept. 30.

Gift cards, jackets, and a free attendance at the District Convention is being offered to those involved in help Kiwanis grow this year.

For more information, see a letter from the Formula Team.

Milestone Club Anniversaries This Month

Club
Organization Date
Years
Rochester
May 1, 1916
100
Lockport
May 17, 1916
100
Newburgh
May 12, 1921
95
Henrietta
May 9, 1961
55
Farmington-Victor
May 1, 1986
30
Bedford Stuyvesant, Brooklyn
May 6, 1986
30
Westmoreland
May 23, 1991
25
Jamaica
May 11, 2006
10

View Complete List