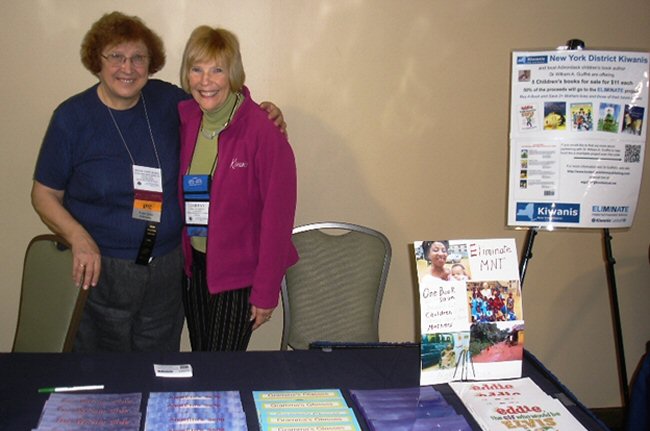 Today is Report Day for Eliminate Project
The third World Wide Report Day for the Elminate Project is today.
The New York District is committed to serving the children in their own communities and in the global village.
Through the efforts of Lt. Governor Carolyn Trimbach of the Central Division, members are participating in a project that includes children at home and abroad. A local author in that division, Dr. William A. Guiffré, has offered his beautifully written and illustrated children's books with 50 percent of the purchase price going to the EliMiNaTe Project.
Since Governor Al Norato's project is putting books in the hands of children, members are fulfilling the Governor's wish by donating books to children in their local areas, and raising money for the EliMiNaTe Project at the same time. It is rare that so much good can be done with the $10 that each book costs!
The above photo shows the display at the District's Mid-Winter Conference. Sister Anne-Marie Kirmse, O.P., District Coordinator is on the left, and Lt. Governor Carolyn is on the right.
Plans are already in the making for a "Kiwanis Christmas" table at the District Convention featuring these books as well as other items for holiday gift-giving to benefit EliMiNaTe.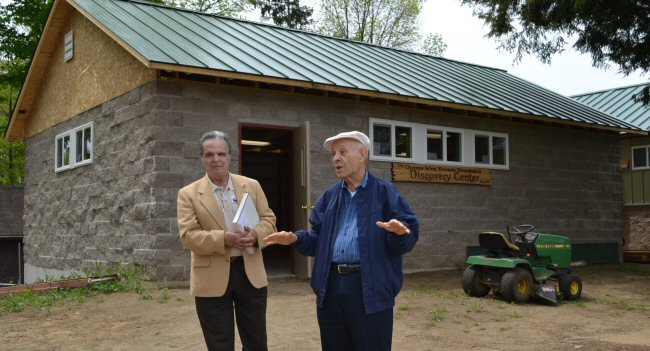 Kamp Library Dedicated
The new Library at Kamp Kiwanis was dedicated on Saturday, May 18, during the Kamp's annual Open House.
Shown above in front of the new building are Sal Anelli, district foundation president, and Past Gov. Ed McGowan, who played a key role in the formation of the Queens West Division Foundation. The foundation donated $50,000 to pay for the construction of the library. Work has been going on for the past several months, and the plan is for it to be ready for the 2013 kamping season.
The library replaces an alcove in Governor's Hall with a larger structure with more space for books and other features that previously weren't available.
Also on Saturday, the Minisink Valley club brought an estimated 1,200 books to help stock the expanded facility. Others also brought materials for the library to the open house.
Shown below is the building's interior. Work remains to be done including installation of a ceiling. More pictures form the day's events are available.

2013 Kamp Kiwanis Information Now Available
Information for kampers and clubs about the 2013 Kamp Kiwanis season is now available on the Kamp Kiwanis web site.
Kamper application and related forms are now available, as well as the schedule for the season and for bus transportation.
Information for applicants for kamp staff positions also is available.

District Convention Registration Opens

Registration for the 2012-13 District Convention is now open.

The convention will take place Aug. 15-18 at the RIT Inn and Conference Center in Henrietta. Those attending are encouraged to register online.

More information is available.

Celebrate 25 Years of Women in Kiwanis

Shirts celebrating 25 Years of Women in Kiwanis were big sellers at the New York District Convention.

A limited number of the shirts are now available for sale through the web site. No more will be made, so once the supply is exhausted they will no longer be available.

More information is available.

New Club Bylaws

Kiwanis International is now ready for clubs to complete the new Standard Form for Club Bylaws.

You can view the new format.

All clubs need to complete the new bylaws, choosing the options that are available. The submission process is all done online for the first time.

More information on the new standard form and the submission information is now available on the Kiwanis One web site.

Milestone Club Anniversaries This Month

Club
Organization Date
Years
Hoosick Falls
May 17, 1928
85
Patchogue
May 5, 1938
75
Riverdale
May 21, 1953
60
Brighton, Staten Island
May 22, 1978
35

View Complete List