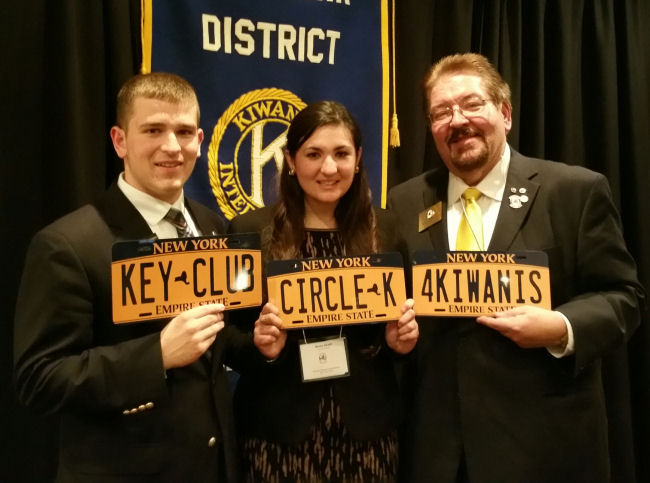 The three governors, Key Club Gov. Jacob Spencer, Circle K Gov. Renee Girard and Gov. Eric G. Paul were pictured at the K-Family Conference last month with license plates for each organization.
International President's Visit Rescheduled
The Governor's Visit to the Niagara Frontier South Division, which will be attended by Kiwanis International President Dr. John Button, has been rescheduled for Saturday, Jan. 10.
The event was postponed last month due to the record-setting snowfall in Buffalo.
If you previously had paid to attend and will be able to attend on Jan. 10, you don't need to do anything. If you need to cancel your reservation or would like to make one, contact Lt. Gov. Chuck Eckert, (716) 759-1111, or by e-mail to chuckeckert@yahoo.com.
The event will be at the Buffalo Adams Mark Hotel, 120 Church St., Buffalo.
Club Agrees to be Model Club
Sister Anne-Marie Kirmse has announced that the Kiwanis Club of East Greenbush in the Van Renssalear Division has committed to being a Model Club as part of the Eliminate Project.
Model Clubs pledge to contribute an average of $750 per member to the Kiwanis International project, which is working to eliminate Maternal Neo-Natal Tetanus.

Bring a Guest Contest

The New York District Formula Team invites clubs to participate in a Bring a Guest Contest.

How it works: Bring a potential member to a meeting and snap a photo with that person to earn an entry to win a raffle prize. Snap a photo of your and a new member being inducted into your club and earn five entries to win a prize.

There will be a special award for the club bringing in the most new members during the contest. The contest will end Feb. 7. Send photos to Formula Membership Chair Julie Watterson by e-mail to julesw77@aol.com or by text to (631) 987-2442. All photos will be posted on the district Facebook page.

KPTC Event to Mark Centennial

A dinner dance to benefit the Kiwanis Pediatric Trauma Center will take place Jan. 17 to mark the centennial of Kiwanis International.

Reservations are requested by Jan. 5.

The event will be at the Chateau La Mer, 845 Wellwood Ave., Lindenhurst.

For more information, see the event flyer.

Milestone Club Anniversaries This Month

Club
Organization Date
Years
Sand Lake
December 5, 1949
65
Painted Post
December 14, 1949
65
Alden
December 30, 1949
65
Lake Delta, Rome
December 2, 1959
55

View Complete List