Anti-Bullying Walk Oct. 2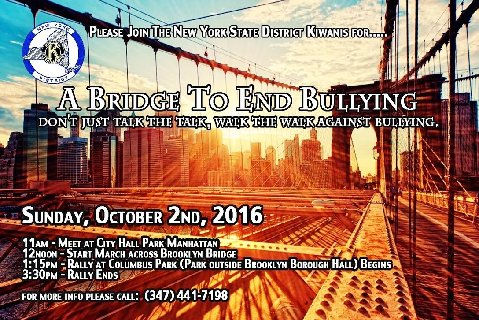 Kick off October, the National Bullying Awareness Month, by joining the Kiwanis Family in walking over the Brooklyn Bridge to bring awareness to the issue of bullying and prevention.
All Kiwanis Family members and friends of all ages are invited to march and rally with us alongside elected officials, neighborhood leaders, clergy, sports heroes, community leaders, school officials, concerned parents, and most importantly Kiwanis' youth leadership clubs like Circle K and Key Club.
Schedule:
11 a.m. - Meet at City Hall park (Manhattan, NY)
Noon - Start march across Brooklyn Bridge
1:15 p.m. - Rally at Columbus Park (outside Brooklyn Borough Hall)
3:30 p.m. - Rally ends

For more information please call: (347) 441-7198
Troy Centennial Events Set
The Kiwanis Club of Troy's Centennial Celebration will take place over a weeked which will include a service project and a banquet.
Events will begin with a Bol-A-Thon on Friday night. Service projects will take place on Saturday morning, and the Centennial Gala will be on Saturday event.
Down a registration form to register.
Anti-Bullying Essay Contest
The District's Anti-Bullying Chair, Keith Cummings, has announced an anti-bullying essay contest for students in the state 16 and under.
More information is available.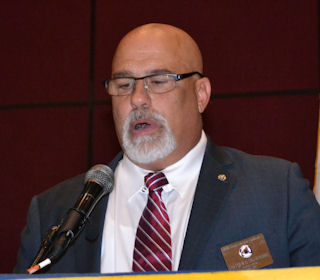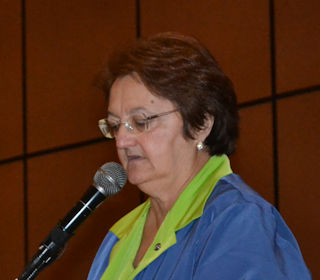 Sirgiovanni, Corsaro To Lead District in 2016-17
Stephen Sirgiovanni was elected 2016-17 governor and Candace Corsaro was elected 2016-17 governor-elect during the House of Delegates Aug. 20 at the district convention in Buffalo.
The two candidates were unopposed.
In other action, the delegates approved with little discussion several textual changes to the district's bylaws, and some resolutions.
More pictures and other information from the convention is available.

Formula Team Offers New Incentives

The Formula Team is offering new incentives for Kiwanians who sponsor new members or new club openings between now and the end of the Administrative Year, Sept. 30.

Gift cards, jackets, and a free attendance at the District Convention is being offered to those involved in helping Kiwanis grow this year.

For more information, see a letter from the Formula Team.

Milestone Club Anniversaries This Month

Club
Organization Date
Years
Utica
September 23, 1916
100
Mount Vernon
September 24, 1926
90
Spencerport
September 30, 1981
35
Saratoga Springs
September 24, 1991
25
Mapleton Brooklyn
September 13, 2001
15
Tupper Lake
September 27, 2001
15
Middle Village
September 11, 2011
5

View Complete List