Formula Team Announced

The Formula is the new Kiwanis effort to build new clubs and attract new members to the organization.
In the New York District, the project is being headed up by Immediate Past Gov. Joe Aiello as Formula chair, and Distinguished Past Gov. Joe Eppolito as New Club Building chair.
They have assembled a team which has been trained for the new effort. It includes people from every division, individuals who will focus on building new clubs and people who will work with existing clubs to build membership.
The goal for the year is 1,100 new members and six new clubs.
See the Formula Team membership.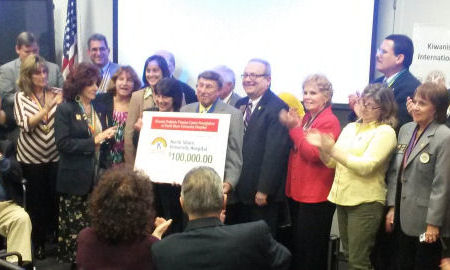 KPTC Donates $100,000
On Nov. 13 The Kiwanis Pediatric Trauma Center Foundation presented a $100,000 check to Cohen Children's Medical Center, marking the 100th anniversary of Kiwanis International.
Shown above is Distinguished Past Gov. Joe Corace, the foundation's president, making the presentation.
The check was presented to Rosemarie C. Ennis of the North Shore-LIJ Health System. The effort partners Kiwanis' global initiative in its commitment to children and local communities with North Shore's commitment to child and local communities. The gift provides training and education to health care personnel and pre-hospital health care provides.
A year ago the North Shore-LIJ Health System relocated its in-patient pediatric services to Cohen Children's Medical Center, which is dedicated exclusively to the care of children and is committed to providing the most sophisticated, state-of-the-art care in all clinical areas.
KPTC funds also support the state Safe Kids programs and their efforts in training Circle K and Key Club members in childhood injury and safety education. The trained members provide safety curriculums in elementary schools focusing on child passenger safety, pedestrian/motor vehicle safety, bicycle/wheeled sport safety, water safety, fall and fire/burn safety in the hop of reducing the major cause of injury and death in the young - accidents. Every year more children die from unintentional injuries than all childhood diseases combined. Trauma claims the lives of 25,000 children each year, and cause disability in 120,000 more.
Nov. 12 Was Eliminate Project Report Day
The Kiwanis family's efforts through The Eliminate Project are making a big difference. The number of babies dying from neonatal tetanus dropped more than 15 percent between 2010 and 2013, according to a report by the Child Health Epidemiology Reference Group. Approximately 9,000 fewer babies are dying each year thanks to Kiwanis, UNICEF and its partners.
Find out our latest fundraising totals during the next Worldwide Report Day on Nov. 12 when we'll showcase our progress at www.TheEliminateProject.org/WWRD. We're on the verge of turning a global effort into a worldwide achievement with the strides we're making toward our US$110 million goal. Help keep the momentum going!
Useful Links:
Looking for Fund Raising Ideas?

At the District Convention in August, many clubs submitted information on fund raising events they have conducted, to provide ideas for other clubs to use to assist efforts in their community.

The collected ideas are now here on the web site. You also can add your club's projects to the list.

Foundation Honorees Listed

The recipients of the International Foundation Awards, including the Hixson and Zeller awards, and the New York District Foundation's Kaiser Award are now available for viewing here on the web site.

The award recipients can be searched by name or by club.

The Brittany Awards, presented by the Pediatric Lyme Disease Foundation, which have previously been available on the site are listed as well.

See the listing at: Foundation Awards.

Milestone Club Anniversaries This Month

Club
Organization Date
Years
Auburn
November 13, 1919
95
Staten Island
November 6, 1924
90
Yonkers
November 11, 1929
85
Ozone Park
November 4, 1954
60
Island Park, Long Island
November 11, 1954
60

View Complete List