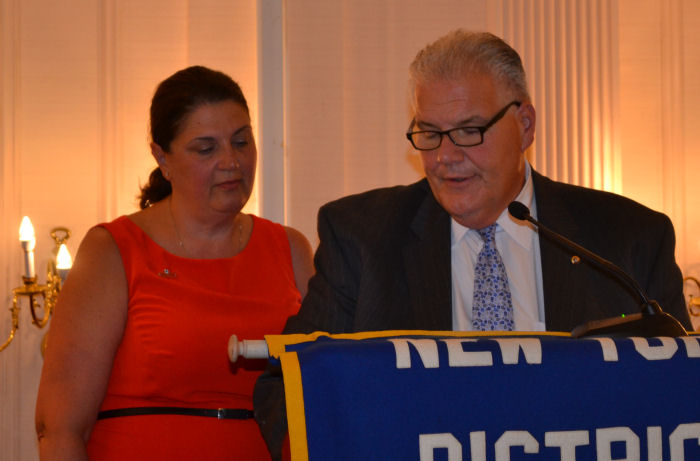 Governor-Designate Forbes Irvine addressing the delegates after they elected him governor for 2015-16, with his wife, Helene, at his side.
Irvine, Sirgiovanni Elected
Past Queens West Lt. Gov. Steve Sirgiovanni was elected governor-elect and Governor-Elect Forbes Irvine was elected governor for 2015-16 at the District Convention on Aug. 15.
Sirgiovanni out polled former Niagara Frontier North Lt. Gov. Candace Corsaro to win the only contested election during the House of Delegates.
Current Governor-Elect Forbes Irvine was unanimously elected governor for 2015-16.
In other action before the House of Delegates, delegates adopted a new set of bylaws for the district, and passed a series of resolutions, including one unanimously supporting the candidacy of Distinguished Past Gov. Peter Mancuso for election as a Kiwanis International trustee at next year's international convention in Toronto.
Those present at Friday's opening session heard Kiwanis International Trustee Patrick Ewing, right, the counselor to the district from Kiwanis International for the coming year, encourage the district to continue with its many projects and worked to inspire them to get involved in the efforts under way through Kiwanis International, the district and local clubs.
Many more pictures and other information about the convention are available.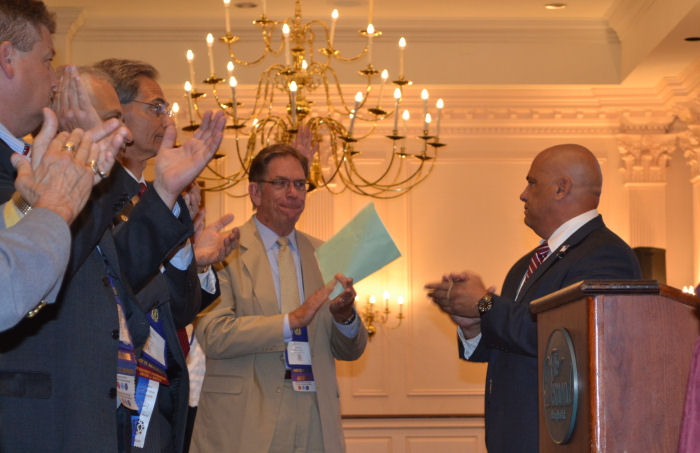 Governor-Elect Designate Steve Sirgiovanni, right, receives applause after his election was announced.
Kiwanians Asked to Support License Plate Bill
The New York State Senate and Assembly have passed legislation (S.438-Gallivan / A.486 - M. Miller) authorizing the Department of Motor Vehicles to offer a distinctive license plate bearing a Kiwanis logo to Kiwanis members in New York State.
However, the bill is now with Gov. Andrew Cuomo awaiting his signature to make it a law and make these plates available. All Kiwanians are asked to contact the governor and ask he sign S.438 and allow Kiwanians the opportunity to obtain these plates!
Address: Governor Andrew M. Cuomo, State Capitol, Albany, New York 12224. Please send a card or note right away stating your support for these plates!

New Club Organized

The Kiwanis Club of Brighton Beach and Coney Island was organized Aug. 3 with 15 members.

Distinguished Past Gov. Joe Corace organized the club.

The charter president is Steve Khatimskiy. The charter secretary is Amy Blandino, and the charter treasurer is Joanne Weiss. The club will meet at 6 p.m. on the 1st Monday of every month at Coney Island Hospital on the second floor. They have a special follow-up meeting for Aug. 31. The date for the charter night will be announced later.

Congratulations go to Corace and to Brooklyn Division Lt. Gov. Joseph Ruggiero.

Milestone Club Anniversaries This Month

Club
Organization Date
Years
Oceanside
September 6, 1945
70
Cambria Heights
September 29, 1970
45
Chester
September 24, 1975
40
Jackson Heights, Queens
September 10, 1990
25
Greater Westhampton
September 25, 1990
25
U.S. Fund for UNICEF
September 14, 2010
5
Endicott-Vestal-Endwell
September 29, 2010
5

View Complete List