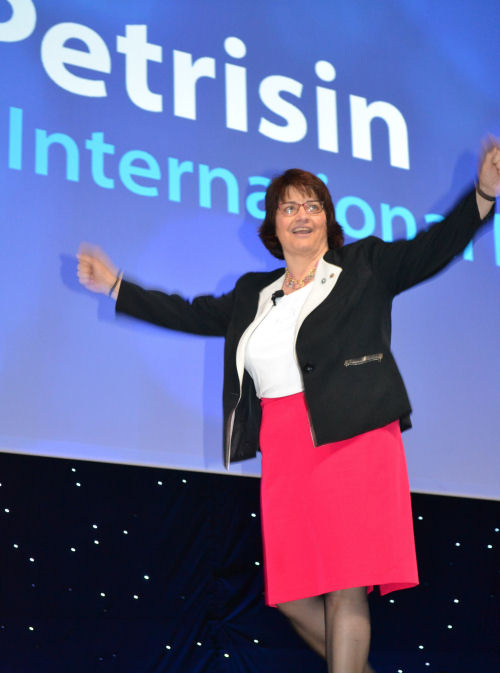 Susan Petrisin became the first woman in the world to head a major community service organization at the end of the Kiwanis International Convention in Indianapolis. Petrisin, from the Michigan district, joined Kiwanis in 1987 after having been Key Club and Circle K governor for the Mighigan District.
Focus Turns to 2nd 100 Years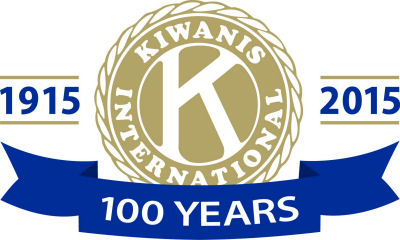 The final and largest event in the Kiwanis International's Centennial Celebration took place June 24-27 in Indianapolis.
Thousands of Kiwanians, Circle K members and Key Club members gathered to conduct their annual conventions, to celebrate 100 years of service and plan for the organization's second century.
Dues will be rising but some other proposed changes were defeated during the House of Delegates. International officers for the coming year also were elected. More information on voting is available.
Many more pictures are available.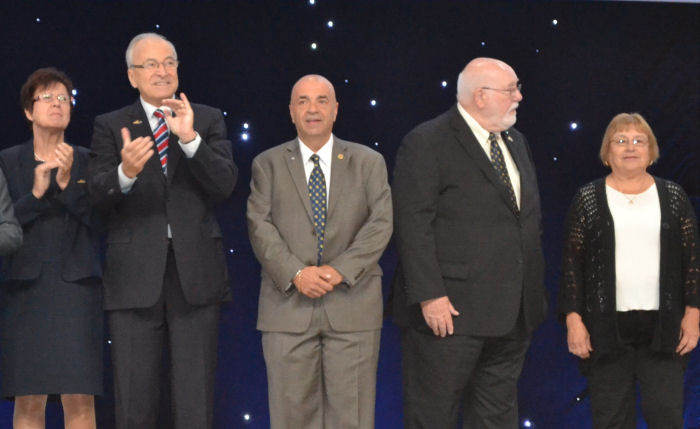 New York District Immediate Past Gov. Joe Aiello (in gray suit) stands to the right of Past International President Gunter Gasser as he and the other district governors from around the world who were named distinguished in 2013-14 were recognized by the delegates at the start of the House of Delegates Friday morning. New York was one of 17 districts in the world to be honored.
Scholarship Winners Announced
The New York District Foundation has announced the winners of $1,000 scholarships to further their education.
The winners are:
Oneida Shuse of Colonie Central High School, attending Colgate University
Molly Clark of Westhill High School, attending Hamilton College
Carly Leventoff of Fallsburg Junior/Senior High School, attending Salisbury University
Andrew Duffy of Spring Valley High School, attending the University of Rochester.
Lewiston Joins Ranks of Model Clubs
The Kiwanis Club of Lewiston, with 118 members one of the larger clubs in the district, has voted to support the Eliminate Project by becoming a Model Club.
Model Clubs pledge $750 per member to support the Kiwanis International Foundation's effort to eliminate Maternal Neo-Natal Tetanus from the world.
District Eliminate Project Coordinator Sister Ann-Marie Kirmse reports that the club has considered making the commitment for some time, and recently voted to do so.
"Congratulations to all the members of the Lewiston Club for their generosity! Lewiston now joins our eleven other Model Clubs: All Island, Amherst, East Greenbush, Hartsdale, Huntington, North Central Staten Island, Patchogue, Sand Lake, Sayville, Three Village-Brookhaven, York-Leicester, and our two $100K Clubs: Chinatown and Fordham," Kirmse said.

Nursing Staff Sought for Kamp Kiwanis
Kamp Kiwanis Executive Director Rebecca Clemence has asked for assistance in finding nursing staff for this summer's kamp season. Kiwanians are urged to spread the word about the job opportunities.
More information can be obtained from Rebecca at (315) 336-4568 or by e-mail to kamp@kampkiwanis.org.
More information on Kamp is available on the Kamp web site.

Bring a Guest Contest

Clubs in the district are urged to participate once again in a Bring a Guest Contest which starts April 15 and runs through July 15.

How it works: Bring a potential member to a meeting and take a photo with that person to earn one entry into the contest; take a photo of you and a new member being inducted into your club and earn five entries to win a grand prize.

Send your photos along with information on the division, club, member and guest names to District Formula Membership Chair Julie Watterson by e-mail to JulesW77@aol.com or by text to (631) 987-2442. Entries, which must include a picture, will be posted on the district Facebook page.

Milestone Club Anniversaries This Month

Club
Organization Date
Years
Tonawandas
July 2, 1920
95
East Aurora
July 10, 1925
90
Nassau University Medical Center
July 16, 1995
20

View Complete List