2015 Kamp Open House
On May 16 the annual Kamp Kiwanis Open House took place. Above, District Foundation President Sal Anelli (wearing beige jacket) talking about some of the recent donations to the kamp, including the benches shown.
More pictures are available.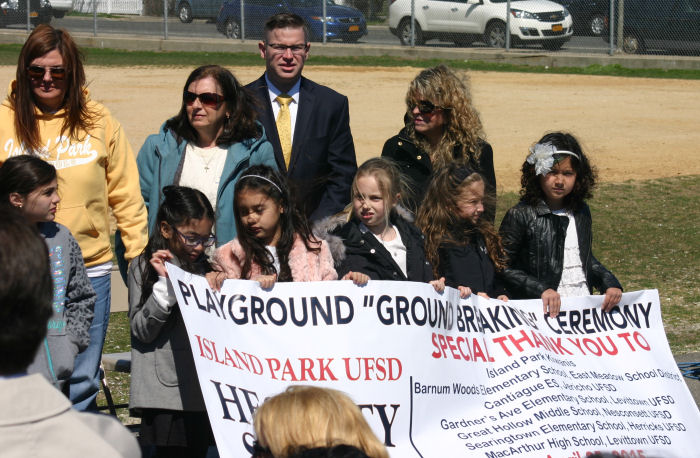 Ground Broken for Island Park's Kiwanis Centennial Playground
The featured event during the Kiwanis International Centennial Tour stop in downstate New York was the ground breaking for a Kiwanis Centennial Playground at the Francis X. Hegarty Elementary School in Island Park, which will replace a playground destroyed by Superstorm Sandy.
Above are member's of the school's PTA holding a banner for the event.
Many more pictures and other information on the weekend's events is available.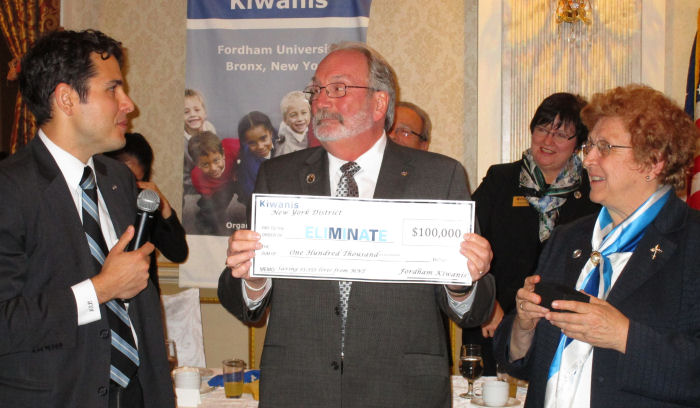 Fordham Completes Model Club Pledge
On April 26, with a special gift tendered to Kiwanis International President Dr. John Button by Sister Anne Marie Kirmse and supported by club president Vinnie Lippiello and Committee Chair Mike Feierman, the Kiwanis Club of Fordham, achieved its goal of raising $100,000 and saved more than 55,000 mothers and their newborn babies among the poorest of the poor in living conditions that do not resemble the modern era.
The presentation took place during the Governor's Visit to the Bronx Westchester South Division. Shown above is Lippiello, International President John and Sister Anne-Marie Kirmse, the district's Eliminate Project chair and a member of the Fordham club herself.

Centennial Celebration Continues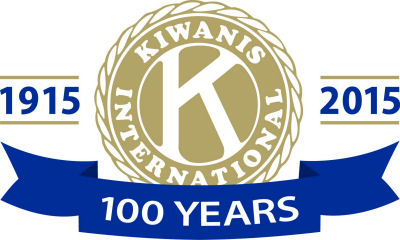 This year's International Convention in Indianapolis will be the final and largest event in the celebration of the 100th anniversary of Kiwanis. It will include conventions by Kiwanis, Circle K, Key Club and Aktion Club in the same place at the same time.
More information on the Centennial Celebration is available, including information on how to get tickets for the district event at the Hard Rock Cafe. The tickets for the district event must be purchased in advance; none will be sold in Indianapolis.

Mother's Day Zellers Available until May 31
Back by Popular Demand: The Mother's Day Zeller Matching Funds Campaign will be held again this year in the New York District until May 31.
For a donation of only $625, a Zeller can be ordered for a special woman in your life - mother, grandmother, sister, daughter, etc. The remaining $625 will be applied from the Stanley Trust and EliMiNaTe District funds. Your club will receive credit for the entire $1250!
This is the last year that these Mother's Day Zellers will be available, and we have about 25 available. Don't delay!. Download the guidelines and order form here.


Bring a Guest Contest

Clubs in the district are urged to participate once again in a Bring a Guest Contest which starts April 15 and runs through July 15.

How it works: Bring a potential member to a meeting and take a photo with that person to earn one entry into the contest; take a photo of you and a new member being inducted into your club and earn five entries to win a grand prize.

Send your photos along with information on the division, club, member and guest names to District Formula Membership Chair Julie Watterson by e-mail to JulesW77@aol.com or by text to (631) 987-2442. Entries, which must include a picture, will be posted on the district Facebook page.

Milestone Club Anniversaries This Month

Club
Organization Date
Years
Olean
May 20, 1920
95
Dryden
May 17, 1960
55
Mastics (The)
May 19, 1965
50
Joseph Michael Wuest, Morris Park
May 1, 1980
35
East Hampton
May 20, 1985
30
Mount Vernon Golden K
May 9, 2000
15

View Complete List