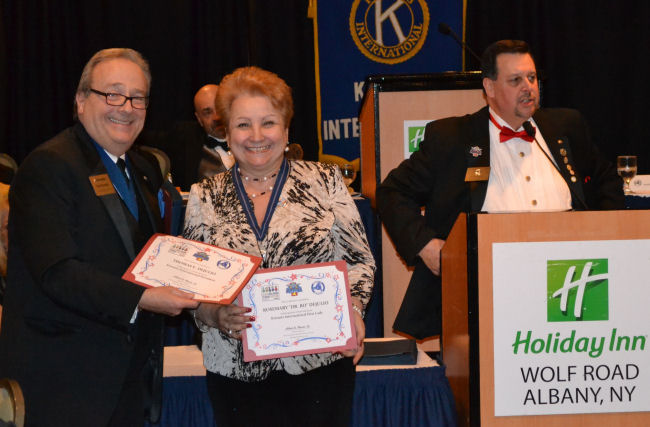 Past International President Thomas DeJulio and Dr. Rosemary DeJulio show the certificates they had just received for their service during the 2012-13 year.
Honors Presented At Mid-Year
Distinguished.
That was the word which described much of what happened at Saturday night's dinner at the 2014 Mid-Year Conference in Albany.
Past Gov. Al Norato Jr. learned from Past International President Thomas DeJulio that he was named distinguished for his work during the 2012-13 Kiwanis Year.
Also named Distinguished for their work during last year were 14 lieutenant governors, in addition, six were given the honor of being named Super Distinguished. A long list of clubs in the district also were honored as distinguished for their efforts during the year.
DeJulio said it's a special challenge to be the governor from the home district of the international president, and said Norato served Kiwanis and the district well and deserved to be distinguished.
Many other awards were made during the weekend, including Zeller Awards supporting the Eliminate Project, and Brittany Awards supporting the Kiwanis Pediatric Lyme Disease Foundation.
The more than 300 Kiwanians who participated also had the opportunity to participate in a variety of educational forums during the day on Saturday.
On Friday evening, former New York Jets Tight End Rich Caster, an All-Pro who won a Super Bowl ring while later playing with the Washington Redskins, was the featured speaker. Caster described his involvement with community and charitable activities.
At right, DeJulio puts a pin on Caster making him a honorary member of Kiwanis International. Before the evening was over, he'd been offered an opportunity to become a regular member of any one of a number of clubs.
Many more pictures and other informtation is available.
International President's Message
International President Gunter Gasser has issued a message to Kiwanis leaders on several subjects.
International Honors New York Kiwanians
Twelve members of the Kiwanis Club of Wantagh and five members of the Kiwanis Club of Bethpage Central Park have been named "Distinguished Members," fulfilling all the criteria established in 2012-13. They are among 300 honored worldwide.
To qualify, a Kiwanian had to sponsor two new members; participate in one Kiwanis branded Service Leadership project or activity, and one additional service project involving the health, education, or safety of young children in their developing years.
Wantagh Kiwanians Kathy Eisman, Chris Brown, John Turtora, Nancy Kalberer, Debbie Tota, Joann Greene, Neal Friedman, Roxanne Burke, Patrick Reilly, Heidi Beth Felix, Floyd Earl, and Donna Morandi fulfilled the criteria and applied on-line for the award before October 2013.
Bethpage Central Park Kiwanians Ann Torcivia, Alan Finchley, Joanne Foley, Joseph Smallarz, and Patricia Donahue Brown were cited for this honor along with Massapequa members Mark Marrazzo and Phil Tesoriero. The Long Island South Central Division under the direction of Lt. Gov. James Mancuso led the district with a total of 19 Distinguished Kiwanians.
Also honored with Distinguished Member status were Thomas Albrecht Sr. and Renee Thorpe (Glens Falls); Susan Vail (Latham); Dr. Rosemary DeJulio (Fordham, Bronx); and Udo Glosch (Ulster).
Each honoree among the 300 worldwide received a special lapel pin and a congratulatory letter and personal gift from 2012-13 Kiwanis International President Tom DeJulio.
Awards for Distinguished Clubs and Distinguished Divisions will be announced at this year's Mid Year Conference in Albany on Feb. 22.

Art Event Benefits Eliminate Project

Kiwanis International President Gunter Gasser and his wife, Christiana, are organizing a project they hope will raise as much as $100,000 for the Eliminate Project, and it involves all the districts in the Kiwanis world.

Districts are being asked to collect 50 drawings or paintings from children interpreting the phrase "bridge to the future". The artwork, which should be 8.5 by 11 inches, will be sent to Kiwanis International about April 1 where it will be framed and then put on sale at the International Convention in Tokyo-Chiba.

Clubs with items to submit should send them to Assistant Secretary Justin Underwood, 91 Jewel St., Rochester, NY 14621.

A letter from Christiana Gasser about the project and the required permission form are available.

Milestone Club Anniversaries This Month

Club
Organization Date
Years
Boonville
March 7, 1929
85
Castleton-Schodack
March 9, 1939
75
Five Towns (The), Long Island
March 21, 1944
70
Merrick
March 31, 1949
65
Clinton
March 2, 1954
60
Wantagh
March 11, 1954
60
Rockaways (The)
March 1, 1984
30
Liverpool
March 15, 1984
30
Corona-East Elmhurst
March 25, 1989
25

View Complete List