2017 District Convention
The opening session took place on Aug. 25.

Lake Placid Village Mayor Craig Randall spoke at the Opening Session, recounting both the village's history with the Winter Olympics and its future as a location for world wide sporting events. Speaking in the rink used for the 1932 Olympics, Randall said while Lake Placid would love to host the games again, the games have simply gotten too large for the village to handle. But that doesn't mean that Lake Placid can't be the site for other events. In the next few years Lake Placid will host the Junior Olympics and the World University Games.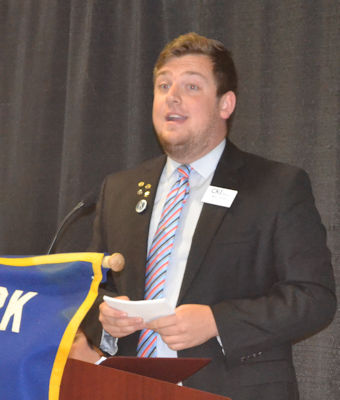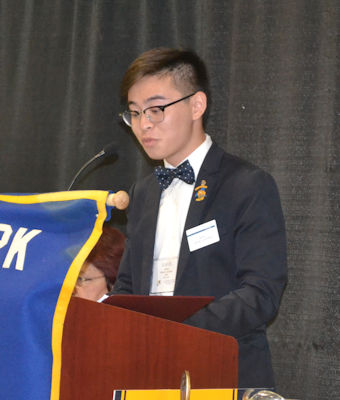 Left, Circle K Gov. Jack Curzon and right, Key Club Gov. Gavin Li address the assembly.
Circle K, Key Club Reports
District Administrator John Goldstein reported on activity in Key Club during the past year.
He said 850 students attended the Leadership Training Conference last spring at the Desmond in Albany. Thirty-four students made the trip to San Antonio for the International Key Club Convention. There are now more than 13,000 Key Club members in the district.
Key Club Gov. Gavin Li said during the past year the district's Key Clubs raised $170,000 and did more than 110,000 hours of service.
Circle K once again had about 1,000 members, said Administrator John Keegan. He asked Kiwanians to include Circle K members in their projects noting that the Circle K members want to be able to do that.
Circle K Gov. Jack Curzon, who will be a senior at NYU in the fall, also spoke at the opening session.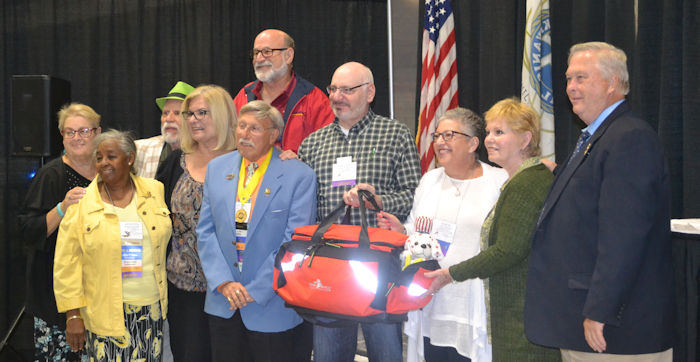 Members of the Bethpage club with their fourth Pediatric Trauma Kit, standing with members of the Kiwanis Pediatric Trauma Center's board.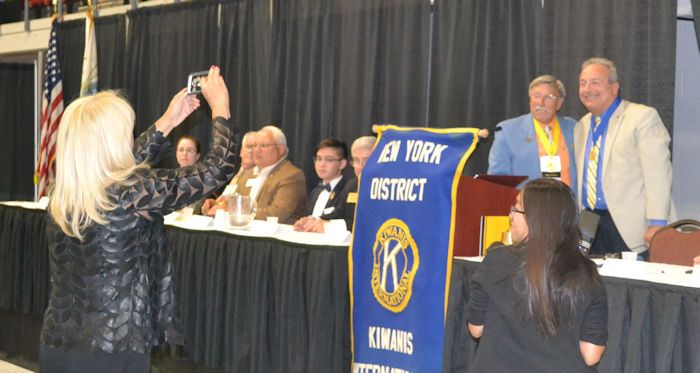 KPTC Foundation Board President Joe Corace presented a rd diamond level award to Past International President Thomas DeJulio for his assistance earlier this year when the foundation changed its official name.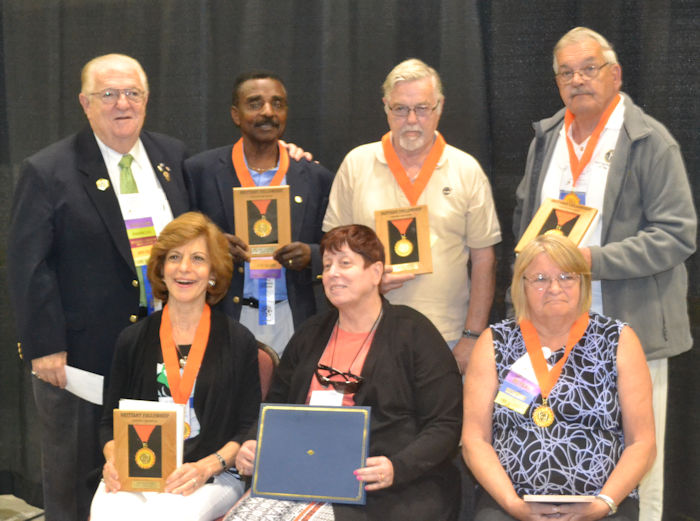 Distinguished Past Gov. John Gridley, standing left, with individuals who received Brittany Awards during Friday's opening session.