Everyday Heroes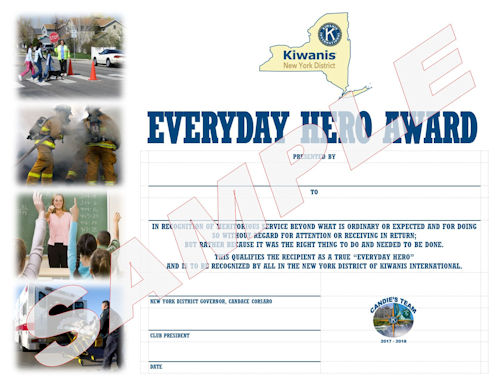 For 2017-18, the Everyday Hero program is returning.
The award should be used by clubs to recognize community contributions by individuals.
In our lives we are touched by unheralded heroes every day, people who change the world where we live by motivating or inspiring others and instilling positive values or taking action when no one else would step in. Local Kiwanis clubs should identify acts of service that go beyond the ordinary or expected, which are done without regard for attention or for any expected return to the individual.
Past Everyday Heroes have included fire fighters, police officers, medical professionals, coaches, educators and other individuals who Kiwanis clubs have deemed worthy of recognition. Don't forget school crossing guards, restaurant servers, local librarians, etc.
Clubs can use the program to honor community individuals for their efforts, and to publicize the club's community efforts.
Download the Everyday Hero Order Form.

• Everyday Hero
Barbara Schor
6 Holloway Road
Rochester, NY 14610
(H) 585-218-4231
(Cell) (585) 259-4195
E-Mail: bschor51@aol.com
Home Club: Farmington-Victor